MODEL: Marklin ST 800 Electric Railcar Locomotive 1948 – 1954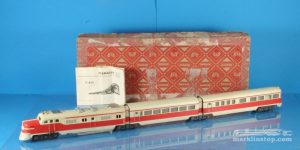 The Marklin ST 800 locomotive was produced for a total of 6 years from 1948 to 1954. The locomotive is based on an American style outline – perhaps loosely modeled after the American Alco DL 103 diesel locomotive. It is similar to the DL 800 locomotive, but has middle cars, numbered ST 800 MT (Mitteltiel – middle piece), and an end car. The ST 800 electric locomotive has front headlines in the locomotive, and each middle car has a light, which is powered by center-rail pickup shoes and a pin and socket that carries current through the cars.
Over the course of its history, the ST 800 came in three different colors – red, green, and blue. Earlier versions of the ST 800 are a dark red, called Karminrot, and later versions were a lighter red. Generally the different versions can be identified by color, type of pantograph, and the flat or round driveshafts in the locomotive – all of which changed over the years for each version.