Märklin Railway Brought to Life in a Nostalgic 60s Layout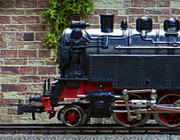 With slight modifications Mr. Barthels has reconstructed the impressive "Anlage 10" layout shown in the Marklin booklet #0330 on pages 21-23. The layout has been meticulously constructed using all original parts from the 60s which are outlined in detail in the layout plan book from Marklin. Such layouts were often built in the Marklin factory and occasionally sent to dealers as demonstration layouts. Marklin customers could take design inspirations and modeling techniques from these track plans and layout suggestions. Ambitious modelers like Mr. Barthels (more than 50 years later!) could even create the complete layout track-for-track, buying all the needed parts directly from their dealers.
Mr. Barthels shows on his website the complete construction of the layout, some useful resources, and many wonderful photos of his layout. A sampling of photos from the website are shown below in the gallery. Many thanks to Mr. Barthels for his hard work and for allowing us to share his photos on this website. Herzlichen Danke, Herr Barthels fur Ihr fantastische Arbeit!