Marklin "EXPERT" Series and W. Seelig of London, UK
It's April 29, 1937 and you're sitting at your desk trying to organize your Marklin purchase orders for the upcoming months at your sports and fishing tackle store in Hall Green, United Kingdom. The day is weary and the work is tough but do not worry, W. Seelig LTD, London's leading sales organisation is there to help!
Last month, coming straight out of a UK estate, a wonderful collection of old dealer materials from the companies of W. Seelig LTD and 1930s Marklin dealer Eric Willmont was found.  The material gives an incredible insight into the operation of Marklin dealers and importers especially for the UK market which was quite different from other markets across Europe. Marklin dealers throughout the UK would submit a purchase order to W. Seelig LTD who acted as the middle man between the dealers and Marklin. W. Seelig, with the help of Marklin, produced what they called Marklin EXPERT series booklets, seven of them to be exact. These booklets were by no means meant to replace product catalogs but rather showed a glimpse of the Marklin product line which would be particularly interesting to UK purchasers. A listing of the EXPERT series library is listed in the 3rd expert series book: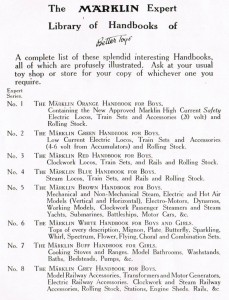 These booklets were printed by W. Seeling LTD in the UK as advertising pieces specifically for the UK market. They featured Gauge O and Gauge I trains of the LMS, LNER, GW, and SR railways. The booklets all carry the common selling points that the new Marklin approved high-current safety railway is "SAFE, SIMPLE, and STRONG."
SAFE – The Authorities and Electrical Experts have declared it to be perfectly safe. There is no possible danger of shock or fire, so efficient are the miniature sub-stations.
SIMPLE – As simple as switching on the electric light in the room. One touch and the train moves. Another notch and she gathers speed. Controlled from the sub-station switchboard. Can be started, stopped, and reversed at will.
STRONG – "MARKLIN Toys are Better Toys." Only the finest materials are used and first-class workmen employed. So sturdily constructed that a MARKLIN model will last a life-time.
These documents also provide incredible insight in the Marklin "Better Toys" product line which was divided into two categories.  "A" Category: Mechanical Goods including electric, clockwork, and steam locos and train sets; electric signals, lamps, and search-lights; high current railway accessories; steam engines; clockwork boats and steamers; motor cars; and patent tops with driving sticks, etc, etc.  and "B" Category: Non-Mechanical Goods including model rolling-stock, rails, accessories, working models for any motive power, guns, howitzers, rifles, pistols, race-games, stoves, bedsteads, pumps, water-cans, etc, etc.
One brochure also states:
All Marklin toys are boxed and labelled, so that it is an easy matter to distinguish one class of toy from another.

Working models (steam engines or electric motors) and artillery have a WHITE LABEL with 2 boys' heads
Marklin Tops have a WHITE LABEL with boy's and girl's head.
Cooking stoves, pumps, bedsteads, model baths and bathrooms have a WHITE LABEL with 2 girls' heads

All genuine Marklin "Better Toys" bear a label on the box showing the laughing heads.  (it is important to note that these labels were also used in the 1930s and early 1940s for the 00 scale product range). 
A letter address to Mr. Eric Willmont, the owner of the store inquiring about Marklin trains, also mentioned the prospect of having Marklin "00" Gauge in his store.  The letter from W. SEELIG Limited wrote in response that "Maerklin Miniature RAilway is proving to be an enormous success, and we look forward to being favoured with your esteemed order."  This letter, dated 29th April 1937, is written at a crucial time in the export market for Marklin 00 Gauge railways.  First introduced in 1935, the entire product line was already being exported worldwide and the production of special export models (American versions, British versions, etc.) is a testament to its success.   From examining the box stamp codes of some British version models (LMS and LNER), I estimate that the first batch was produced in the fourth quarter of 1937 but surely normal production German outline trains were exported to other countries well before this date.
Updates
We located a 1923 catalog mentioning W Seelig as the sole agent for Great Britain.  This is possibly the earliest mention of W. Seelig.  The "Better Toys" books came out later starting around late 1925.